Main content starts here, tab to start navigating
About Us
In 1929, when Greek immigrant, Angelo "Pop" Primos opened his first bake shop in Jackson, MS, he couldn't have imagined we'd be 90+ years old today! From his start in America at a small New Orleans bakery, then working in Gulfport, MS, he pursued his dream of building a life for himself and his family and opening his very own restaurant and bakery in the capital city. PRIMOS CAFÉ – a place where family and friends gather, share a delicious meal, and are greeted warmly by all who work within its walls. This is the realization of Pop's dream!
1929
Pop opened Primos Bake Shop at 236 East Capitol Street
Pop would bake at night and "Mom" (Pop's wife Mildred) would help sell bread and pastries during the day. Business was slow so Pop added coffee and drinks to the menu.
1933
Pop transitioned Primos Bake Shop into a full-service restaurant called Primos Café and Bake Shop.
Pop went to Westbrook Manufacturing, a company that made restaurant equipment and worked a deal to buy some furnishings that Westbrook Co had reclaimed from a source in McComb, MS. When asked how much money he had, Pop replied $100. Alton Westbrook said that was enough for the down payment.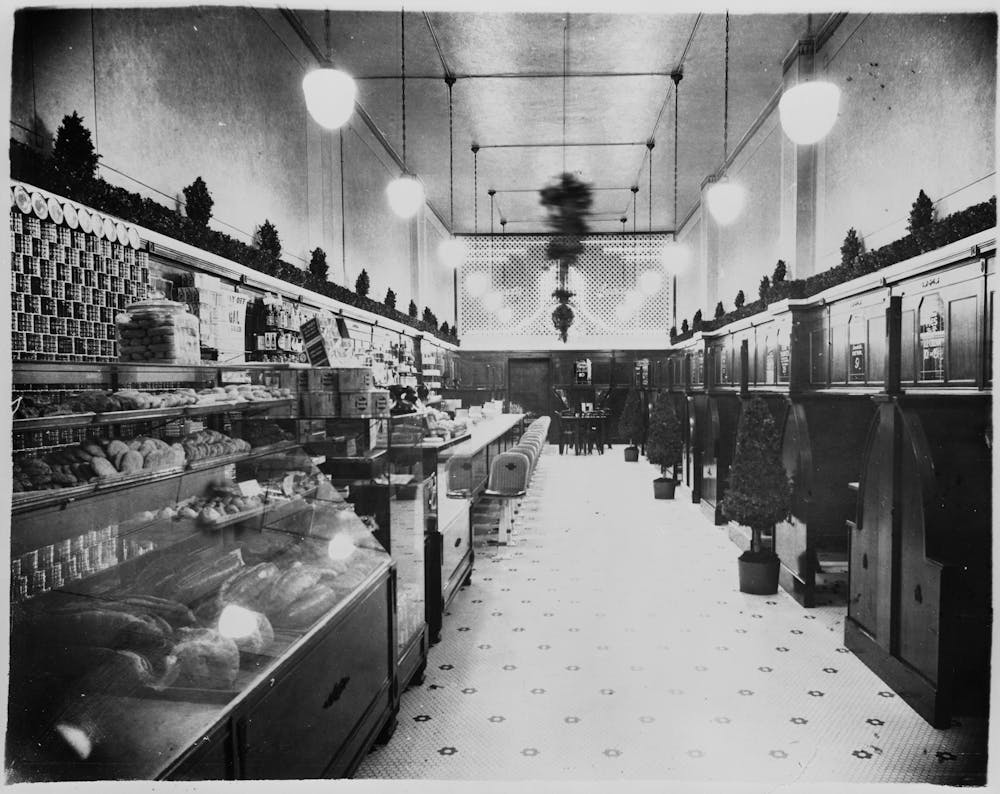 1939
Primos Café and Bake Shop was becoming successful. He relocated to a bigger space at 244 East Capitol Street, next to First National Bank.
Pop was a dreamer. He liked to travel to different cities to get new ideas. At the Roosevelt Hotel in New Orleans, he discovered an electric eye door, which he soon put into his location. The "Electric Eye" is an old-fashioned term for photodetector, an electronic circuit activated by light. First developed in the 1890's the common application here is an automatic door.
He had elevated, round sitting booths built and installed, which he first saw upon his travels. He also designed his kitchen so customers could see the cooks cooking and preparing dishes. He always had a big display of his bakery items next to the cash register. When Pop opened this 2nd location, he installed air conditioning, Primos was the first restaurant in MS to have it.
Pop knew his business and he acquired many patrons. He always had fresh ideas and slogans for his business. A few popular sayings he used to market Primos were:
"Taste the Difference", "Meet Me At Primos", "Stay Healthy, Eat at Primos"
Much like the wrap-around advertising we see today on some bakery and catering trucks, Pop wanted to have his advertising on the top of his truck, so all the businesses in the buildings downtown could see it. Pretty genius for the 1930's.
1948
Pop opened "#2" at 1016 N. State Street (across the street from Baptist Hospital)
Pop also opened "The Glass Kitchen" (corner of College and State Street) next to First Baptist
(It was called the glass kitchen because of the glass partition between the kitchen and the dining room area).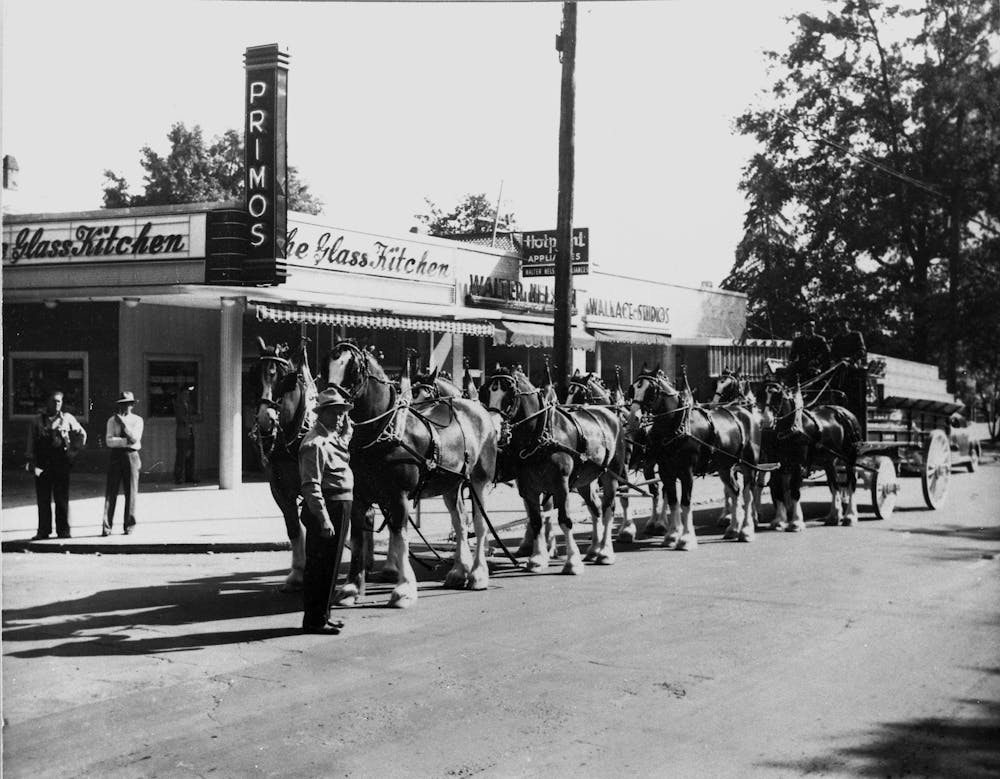 1955
Pop built a two-story building next to the glass kitchen and moved into that building and called this location Primos #3. That building is now First Baptist Jackson's Gym.
Also, in 1955, Pop bought Burton's restaurant next to the Heidelberg Hotel on West Capitol Street. He called it Primos #4.
Pop's driving force was to keep his family around him and provide work for them. Every time one of his sons finished school, he'd build another restaurant and put them to work.
1964
Pop opened Primos Northgate Restaurant at 4330 N. State Street. It was a large restaurant with a bar and courtyard as well as a deli.
He built the large convention center a few years later. The first established rooms were the MS Room (elegant with crystal chandeliers), The Driftwood Room (decorated in a Western Motif), The Guard Room (decorated with an old English design, a style influenced by the Guard at the Royal Palace in London)
Later the Terrace Room was added (it was a patio motif with French doors with many artificial flowers and a large mural resembling a garden.
Later the Inca Rooms had vaulted ceilings that were pyramid shaped, three walls were actual stone blocks, installed like bricks, designed to look like the inside of a temple.
There was a Center Court Area, which was a reception area for all the dining rooms, it had a raised flower bed and a fountain with underwater lights that were synchronized with the music.
At one point in time, Pop had 4 restaurants thriving, nearly 5. Primos #4 closed down as Primos Northgate was opening in 1964.
Primos Northgate with its fine dining, deli and convention rooms served the greater Jackson community for 37 years.
1986 - 2000
A Daughter Looks Back
Primos Northgate holds countless memories for Don Primos' daughter, Mary Claire. "My entire adolescent years were spent there. In elementary school, in order to see my dad during the school week, my mom, sister and I would eat dinner there most nights. We ate in the dining room every Sunday after church, and on special Sundays we would go to the large banquet hall and enjoy the Sunday buffet. I was always amazed at the amount of delicious food, the numerous banquet staff and all the people who had reserved tables. When I was older, I would help out in the deli by gathering holiday pick up orders or help the banquet department prep plates for their many events. I'd come by to see my dad and he'd put me to work on the assembly line. I had a few homecoming and proms in the large banquet rooms too. Countless memories from occasionally hostessing, to watching the bakers stir hot caramel icing in the biggest bowl you could imagine, to dining with my family and going to feed the goldfish, to playing hide and go seek with friends throughout the entire property, to visiting the large bakery in the very back of the complex and watching them pull out large sheet pans of fresh baked brownies out of the ovens and then ice them down with homemade fudge. Sometimes they'd let me lick the bowl.
I can still see it all and my grandfather and father – always working so hard. I will forever cherish the memories.
2001
December, Primos Northgate closed.
2002
January, Primos Café and Bake Shop opened at 2323 Lakeland Drive in Flowood with a new, fast casual concept offering a breakfast, lunch and dinner menu with a takeaway area for grab-n-go items and takeout orders.
2006
January, Primos Café and Bake Shop opened a 2nd location at 515 Lake Harbour Drive in Ridgeland.

2018
February, Primos Café and Bake Shop opened their 3rd location at 201 Baptist Drive in Madison, MS.
2019
Primos Café and Bake Shop celebrated 90 years in Business!
2021
December 6th Primos Café joined with MMI Hospitality Group forming a strategic partnership. The inclusion of MMI provided Kenya Parks, operations leader to MMI's newly formed lead role with Don Primos remaining as a consultant. "I'm confident in the future knowing that Kenya and our store teams have access to the breadth and depth of resources MMI provides. I'm pleased to partner with another family-run business to move the brand forward and with whom I know will embody the values that are critical to quality service in our community.", said Don Primos.
"At MMI, we believe that restaurants don't simply arrive," says Sturdivant. "They are created from both a well-executed vision and a commitment to ideals that are unwavering. "It is no coincidence that Primos is consistently ranked as the No. 1 Bakery, Blue Plate and Breakfast spot, both by Mississippians and a national audience. We look forward to building on this legacy that has been part of the lives and memories of Mississippians for generations."
In 2024 Primos Cafe will celebrate 95 years in business!